I made this photo during a winter holiday visit home to Taiwan while I was in college. Both my grandfathers loved having their picture taken. They were so regal & stoic, so proud & handsome in that Chinese grandfatherly kind of way. This is my mother's father, who I knew as Gong Gong. His Chinese name, as we knew it, was Chu Hsu, but when I started researching my family genealogy & interviewed my mom's oldest sister, I found out that Gong Gong was actually born Zhe-Chiang Hsu in September 0f 1904. When he was 15, he wanted to become a teacher, but he was two years too young to do so according to Chinese law. So, he borrowed his cousin's birth certificate, & was permitted to study & get a teaching certificate. And from then on, he had to continue to use his cousin's name! I wonder what name his cousin used…
I love this photo because it captures everything about my Gong Gong that I loved so much–his perfect posture (he did Tai Chi Chuan & walked every day until he passed), his wise, scholarly expression, his cane, his jacket, & how unruffled he is by the wind blowing his beard. According to Chinese tradition, a man is not to shave for one month when his wife passes away; I think it's meant to show that you're grieving so much, you can't possibly care about your appearance. My grandmother died when my Gong Gong was 77; he never shaved again, & wore his beard until he died at the age of 91.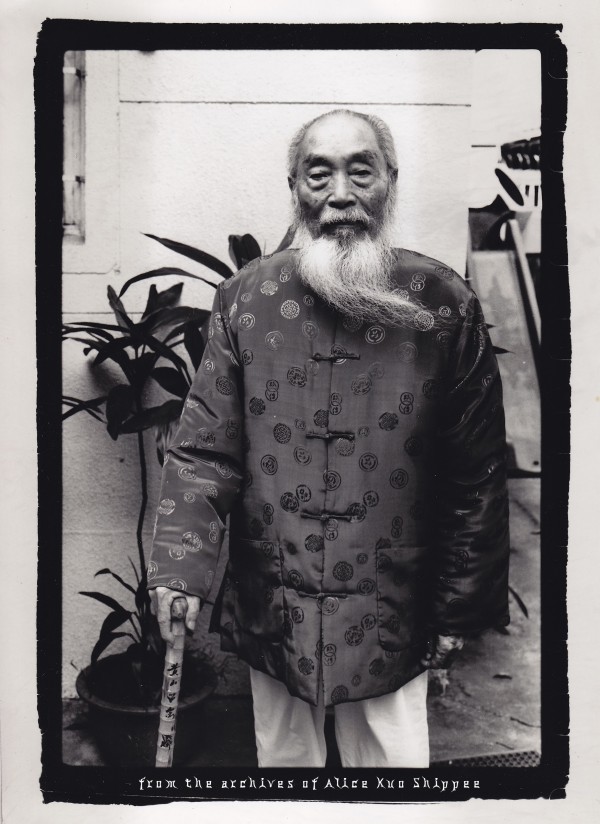 I was so lucky to have spent much of my childhood with my grandparents. Gong Gong walked me to & from school each day. He took me to the park. I don't remember much of what we talked about, but I do remember watching him at his desk as he wrote in his journal every day. I would stand at the doorway & wonder what he was chronicling. And I watched as he exercised, swinging his arms & hands front & back as part of his Tai Chi. And everyday, he would walk & count the number of steps he took–I think his goal was 5,000 (or was it 10,000?) a day.
When my grandfather was older, he started to lose his hearing. I would sit with him while he watched TV, & we didn't talk much, but I always felt such a sense of calm & safety near him. I have no idea what he thought of me; I was wild as a teenager, but he never seemed to judge me. I felt really happy just reading a novel near him while he watched the news, & if I saw that he had dozed off, I would just lay my book on my chest & take a nap next to him.
And on a photographic-cultural note, I was so excited to send this photograph to him, because I had hand-printed it myself in my makeshift darkroom in my apartment bathroom. "Sloppy borders" were my new obsession, so I included one on his portrait, because I thought it made it extra artsy. When I went home to visit, I noticed that he didn't have my picture displayed in his room as I had hoped. In fact, it wasn't anywhere in the house. When I asked my mom about it, she finally told me that in Chinese culture, black outlines only appear on stationery that announces someone's death. So, I had unwittingly created an unlucky portrait of my grandfather–I was so mortified! I reprinted one for him without it & put it in a burgundy frame, but I don't know that I ever undid the faux pas.
This is a scan from my original handmade silver gelatin print. I forgot how much I miss holding a print in my hand in this day & age of digital. I love the feeling of the matte Ilford paper, & I like that I can see how the color is beginning to turn where the chemicals are showing through. This print must be about 20 years old now. It's hard to believe that I made something that long ago that I still love like the first time I saw the image floating out of the water.